AC Repair Tulsa, Ok – Emergency Services Available
We are dedicated to providing you quality services and want to do what is best for your home.
Harsh winters can put a lot of wear and tear on your HVAC system. We want to make sure your system is working properly or install a new system that will meet your needs.
At Direct Air and Heat we do not use high-pressure sales techniques. We take the time to answer any questions you may have and make sure you are happy with our work. All of our employees are highly trained and they will make sure you are satisfied with your HVAC system.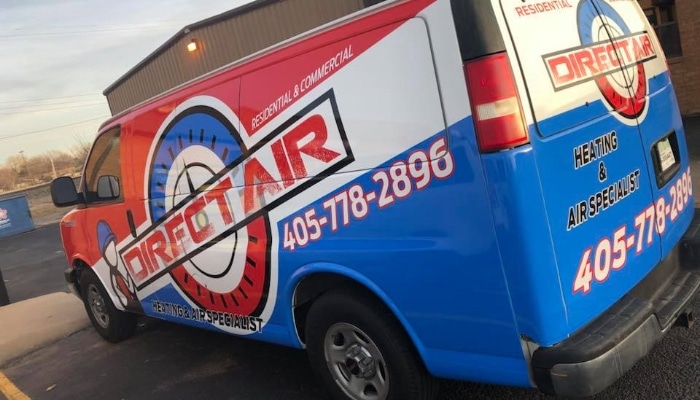 Direct Heating & Air's Full HVAC Services
Air Conditioning

AC Maintenance

AC Install

AC Repair

Heating

Heating Maintenance

Heating Repair

Heating Install

Heat Pumps

Commercial HVAC
Call Direct for All Heating, Air Conditioning & Indoor Air Quality Needs
For questions about your heating, air conditioning or indoor air quality, call Direct at 405-778-2896 , contact us or request service today!
Direct Air and Heat will provide all of your Tulsa HVAC services.
We have fair pricing and we will work to make sure your home is comfortable and at the perfect temperature.
We want to keep our existing customers happy and are always ready to help new customers. We have highly trained and skilled technicians of staff.
We can even install tankless water heaters if that is what you are looking for. We can repair a leaking air conditioner and we can take care of all of your heating and cooling needs.
Membership
Direct Air and Heat located in Tulsa, OK has a membership program to help care for your heating and cooling system.
This program will help you avoid unexpected repairs and the cost that comes with maintaining a heating and cooling system. If the system is properly maintained it can last for years and will work more efficiently.
Heating and Cooling Team
To live comfortable it is important to have a reliable heating and cooling system. Our team can make sure your system is working through every season. We offer much heating and cooling services. We respect the homes and businesses of our clients. We have worked hard to achieve:
Rating of A + from the Better Business Bureau
We can make repairs on all major brands of air conditioners.
Our technicians are NATE certified. We work with all different brands of air conditioners. We can service brands including American Standards, Goodman, and Rheem. We will replace the filers and inspect the equipment to make sure it is operating smoothly. We can also assist with
Air conditioning unit replacements
AC installation
Repairs
Upgrading equipment
Heating Units
We use the latest technologies when it comes to heating and cooling. We can install and work with geothermal heating systems, energy-efficient units, and smart home technology such as thermostats. We will look at your system annually and make sure everything is working properly
We can also help with:
Ductless heater installations
Furnace replacements
Repairs to the heating system
Direct Air and Heat has been helping both homeowners and business owners with their heating and cooling needs for decades. We have regular maintenance programs. We also have a huge selection of heating and cooling equipment such as germicidal lighting, humidifiers, and many more. We will even do an air quality assessment to make sure your Tulsa home is comfortable.
We want to make sure you are getting great customer service. Give us a call today and we will take care of all your heating and cooling needs. Give us a call or visit our AC repair Tulsa Address at 8504 East 41st Street Tulsa, OK 74145.