Air Conditioner Replacement & Installation Near Norman, OK
Have you noticed something rattling or clanging when you run your AC? Maybe the temperature is a little uneven in the house. You mess with the thermostat and you've had your AC repaired multiple times without luck.
Face it: Your AC is outdated. If it was part of the house you bought 10 years ago to cool your Norman, OK area home, it's probably past its prime and running harder than it should.
But thanks to Direct Air, an AC in need of replacement doesn't have to be a logistical or financial struggle. With our 24/7 emergency services, you can rest assured that if it's time for a new system, we'll see to it that it's taken care of quickly. We offer financing for HVAC replacements and we'll help you select a model that is best for your home's size and use.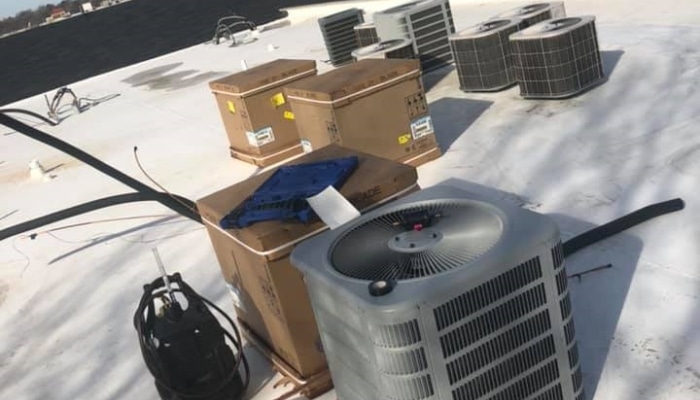 When Is It Time to Replace Your Old AC?
Your aging air conditioner will show some tell-tale signs that it's ready for retirement. After 10 to 15 years of frequent use, repairs start to make less sense financially than investing in a new system. If you notice that your home just isn't cooling like it used to, it's better to have a professional check your unit than to risk getting stuck in the summer with a breakdown.
Some common signs it's time for a new AC include:
The unit is more than 10-15 years old and reaching the end of its lifespan.
You deal with frequent repairs that never seem to solve the problem.
Energy bills have skyrocketed but you aren't running the AC more than usual.
There is limited airflow through the vents or no cool air at all.
If you've run into an issue with your AC for the first time, a repair might do the trick! Our professional technicians will inspect the unit and offer our expert opinion on whether it's time for a new unit. If the issue is beyond repair or likely to return, we'll help you find the right cooling system for your home's needs and get it installed in no time.
AC Replacement You Can Count On
Any good technician will tell you that installation day is the most important day in the life of a central air conditioning system. There are mistakes that can be made by a non-professional or poorly skilled technician that can affect the longevity of your unit. At Direct Air, our technicians know the difference between a unit that was installed by a weekend handyman and units installed by reputable technicians who work for good HVAC companies like ours.
We value our reputation and we value your opinion of our service in Moore, Oklahoma City, Norman and beyond. For those reasons and dozens more, installing an AC properly and efficiently is something we take great pride in. Your Direct Air-installed AC will bring you even temperatures, cooler, cleaner air and a high rate of efficiency so you aren't paying an arm and a leg to keep the family healthy and comfortable.
If your system is on its last leg, give Direct Air a call today at 405-778-2896 or request an appointment. We'd love to walk you through your modern AC service options — each will lower your carbon footprint while keeping the family in chill mode for many summers to come.