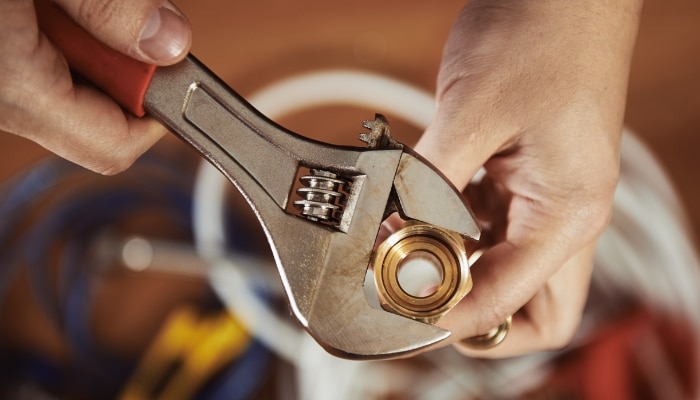 Seasonal Maintenance Saves You Money & Time
 - Sun & Fun.
 - Peanut Butter & Jelly.
 - Checking Yourself & Not Wrecking Yourself.
Some things are just better together! Getting two of your home's most important systems maintained definitely falls into that category. Plumbing and air conditioning maintenance are an unbeatable duo!
In a single service call, we will make sure that both your air conditioning and your plumbing are in the best possible shape. That's going to be important in the summer when you probably spend more time at home. 
More kids or visitors in the house means more flushes, higher sink usage, and of course, running the air conditioner a lot more. This is not the time you want to find out there's something wrong with either system!
Seasonal Plumbing Maintenance Checklist
Seasonal plumbing maintenance makes sure everything that carries water around your home is working properly. Water damage is a big indicator that there's a problem, so we check for marks or stains near pipes and on walls or floor.  
Speaking of pipes, we make sure they are not damaged or rusty. If they are, that could be a sign that trouble is heading your way. 
We also check to make sure that your toilets are not leaking, and that they're flushing properly.  
We also check the water pressure in your faucets -  in the bathroom, kitchen, or any other rooms. It's important to have the right amount of water pressure so you can get things clean without splashing water everywhere.
The most anticipated part of the service is checking for potential clogs. If you have water that is not flowing freely, it's a huge red flag.
By doing all these checks, we make sure that your house is in tip-top shape and that the water is working properly. It's a great way to keep the people inside healthy and happy! Also, in the event that we do find you need a plumbing repair, we'll help you schedule one on the spot!
Air Conditioning Maintenance Checklist
An air conditioning tune-up is important to keep the AC unit working efficiently. Making sure that it isn't performing poorly and wasting a bunch of electricity is just one of the ways preventative maintenance helps save you money!
Here's what you can expect during your air conditioning tune-up:
The technician will clean various parts of the AC unit, including the condenser coils and evaporator coils. Removing dirt, dust, and debris helps maintain proper airflow and improves the unit's overall performance.
The condensate drain removes moisture generated by the cooling process. Over time, it can also become clogged. The technician will inspect for dirt and debris and clean to prevent blockages.
We'll also inspect the electrical connections, thermostat, and other components of the AC system for any signs of damage. This is just one of the ways we help you avoid unexpected repairs.  
Another key feature of our AC maintenance is to lubricate your system's moving parts, such as motors and fans, as needed. Lubrication helps reduce friction and ensure smooth operation. Your Direct Air technician will measure the refrigerant levels in the AC unit, as well. Insufficient or excessive refrigerant can affect the cooling capacity and the system as a whole. 
Ultimately, the technician will perform various tests to ensure that the AC unit is functioning properly. We'll look at the thermostat, the airflow, and the cooling performance, too. If necessary, the technician may make adjustments to the system's settings or calibrate certain components to optimize performance and energy efficiency. Of course, if an AC repair is needed, we will go over that with you on the spot.
Our Cool Club Was Designed To Save You Time
We are happy to provide one-time maintenance service on your plumbing or air conditioning, but why not set a schedule and let us think about it so you don't have to?
When we came up with The Cool Club, our selection of scheduled maintenance programs, we knew that it had to not only save you money on unexpected repairs but also save you time. That's why the plans cover both plumbing and HVAC. The loss of either one would be a giant hassle, and that's what we help you prevent.
Get more information about the advantage The Cool Club has to offer and call 405-778-2896 to sign-up today!