Plumbing Service - Sewer Line Repair in Moore, OKC & Norman
There are many causes of sewer lines breaking. Some of these include corrosion, movement in the ground and tree roots growing into the pipes and cracking them. When this happens, sewage can pool on your property and even in your home.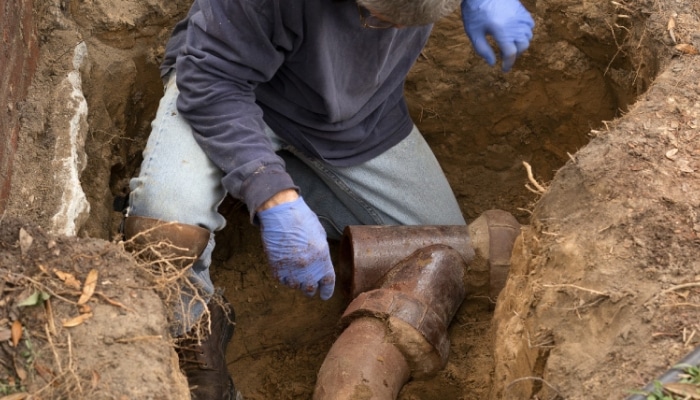 Because sewage contains harmful bacteria and viruses, it's imperative that you get the problem taken care of immediately by professionals. You'll know your sewer line needs repairs if you smell sewer gas, have mold buildup in your home, slow drainage, cracks in the foundation of your home or pools of sewage on your lawn or in your home. 
Emergency Sewer Line Repairs
Damaged sewer lines can cause sewage backups which can not only put your health at risk, but also be very difficult and costly to get rid of. Therefore, if you suspect your sewer line has a problem, it's important to call the professionals immediately. That's where Direct Air can help.
Our plumbers are available 24/7 for emergency sewer line repairs to help avoid damage and ensure your safety. No matter the size of the problem or when it happens, we'll arrive quickly to provide expert help.
Your Health & Safety Are Important To Us
At Direct Air & Heat, we are committed to making sure your plumbing is fixed thoroughly so it won't cause you any more trouble. Because of how important sewer lines are, we always work quickly while keeping your safety in mind. When you need fast, reliable services, you can count on us to get the job done right.
If you'd like to learn more about our sewer line repair services, be sure to give us a call at 405-778-2896 today! You can also contact us online or request service  right now.
FAQs
How do I know if my main sewer line is leaking?
Several signs can indicate a leaking main sewer line. If you notice multiple drains in your home are clogged or slow to drain, foul odors coming from drains or in the yard, or a sudden increase in water bills, it could suggest a sewer line leak. Sinkholes, wet spots, or sewage backup in the yard may also indicate a problem. If you suspect a leak, it's essential to contact a professional plumber for a thorough inspection and proper repair to prevent further damage and health hazards.
What is the lifespan of a sewer pipe near Norman, OK?
The lifespan of a sewer pipe can vary depending on the material it's made from and the conditions it's exposed to. Cast iron or clay sewer pipes can last anywhere from 50 to 100 years or more with proper maintenance. PVC (polyvinyl chloride) or ABS (acrylonitrile-butadiene-styrene) pipes typically have a lifespan of 25 to 40 years. Factors like soil conditions, tree roots, and corrosion can impact the longevity of sewer pipes. Regular inspections and timely repairs can help extend the lifespan of the sewer system.