Installation, Maintenance & Emergency Repair for Your Water Heater
Imagine the in-laws, the distant cousins and all of your family have come to your house to celebrate the holiday season, a family reunion, a wedding, etc. You enjoy hosting and sharing your home's glowy warmth. But when one guest wants to shower before bed you find out that the water doesn't seem to be heating and you've got to call a plumber.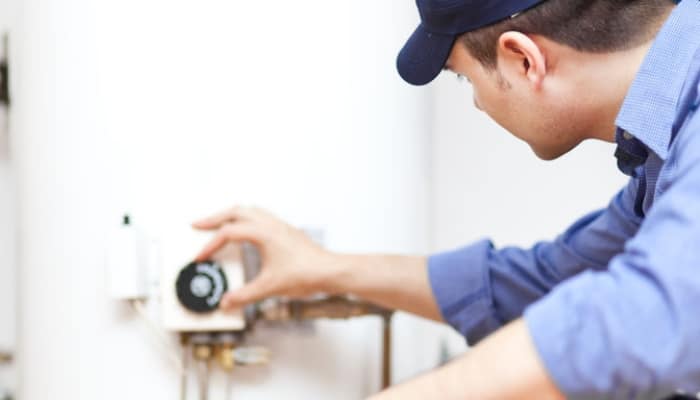 Warm showers aren't just a balm for holidays and cold temperatures, they are also the perfect end to an extra busy day in the yard getting leaves bagged up or the perfect soapy calm-down element you need to recover from traffic and crowds. If you've ever had a tension headache or a stiff neck, you know the healing power of a hot shower to loosen your muscles and help you relax.
Common Water Heater Problems
There are a number of ways your water heater can tell you to call Direct Air. Some of these problems are:
No hot water.

Water doesn't stay hot.

Corroded tank.

Leaks due to lose heating elements or take corrosion.

Rusty water.

Water with foul odor.
Water Heater Installation With Direct Air
At Direct Air we service and maintain water heaters of all makes and models for our clientele. We'll make sure your water heater is in good working order before the family comes to town or just when you want to make sure your water is still being used efficiently.
Water heaters with tanks are the most popular form of water heaters and can be cheaper to install and run. We also specialize in tankless water heaters, an environmentally friendly means of heating water for your home. 
Emergency Water Heater Repairs
If you are having trouble with your water heater, nothing is more important than restoring your hot water as quickly as possible. Leaks and breakdowns can quickly cause damage to your home and turn into a major headache. 
For water heater emergencies, Direct Air is here 24/7 to ensure you have reliable hot water everywhere you need it. Our expert emergency plumbers will arrive quickly to help with the necessary tools and training to ensure your safety and comfort!
Whether you need a repair, replacement or new installation, Direct Air is your best choice for water heater experts. Call 405-778-2896 to speak with us about your water heater today or request service online today!