Direct Air Installs Heating Systems In Moore, OKC, & Surrounding Areas
Unlike some of our more historic housing in OKC, a heating system wasn't meant to live 100 years. You're lucky if you've gotten more than 15 years out of your current system but please don't push your luck any further. If your system is more than 15 years old or you do not know the age of your system, please call us or contact us today.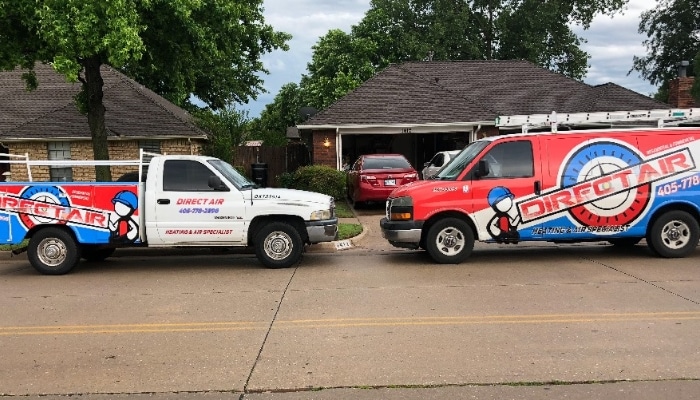 Some Signs Your Unit May Need To Be Replaced
So what are some other ways you might tell that you're looking at a heating system replacement?
First ask yourself, are my utility bills the same this year as last? A steady increase in fuel bills will indicate that you are at least in need of

repair

.

If yours is an older unit, we might recommend a full replacement which would save you annually on heat for your home.

Next, has the humidity rate changed in your home? If you've noticed that things take longer to dry, furniture feels damp or there's a lot of sticky humidity in the air, that's a good sign that your system needs to be replaced.

Is your system making a lot of banging, clanging or groaning noises? If your furnace or heat pump is making horrible noises, it may be in its death throes. Consider putting it out of its misery by upgrading to a new unit.

If there's visible damage to the system, there's a good chance we'll tell you the system needs to be replaced. The same is true if you are paying for frequent repairs, especially if those repairs are related to the age of the system.
Why Can't Just Anyone Install A Heating System?
Truth be told, anyone *can* install a heating system, but they shouldn't. A poorly installed system or one done DIY will end up costing you significantly through higher utility costs and more frequent repairs, and it will probably never effectively heat your space. 
Call Direct Air today at 405-778-2896 for more information on replacing or installing a heating system in your OKC area home. Contact us here or request an appointment today!