Professional AC Replacement and Installation Services Near Norman, OK
Have you noticed something rattling or clanging when you run your AC? Maybe the temperature is a little uneven in the house. You mess with the thermostat and you've had your AC repaired multiple times without luck.
Face it: Your AC is outdated. If it was part of the house you bought 10 years ago to cool your Norman, OK, area home, it's probably past its prime and running harder than it should. Thanks to Direct Air, AC replacement is a breeze! Our 24/7 emergency services and financing for AC replacements and installations provide the cooling you need without the hassle.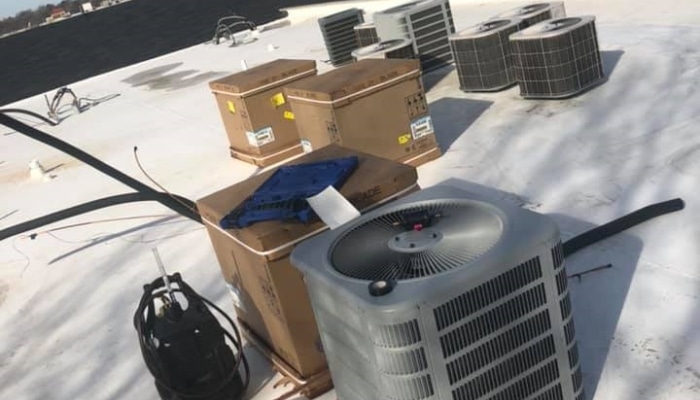 Signs Your AC Needs Replacement
Your aging air conditioner will show some tell-tale signs that it's ready for retirement. After years of frequent use, repairs start to make less sense financially than investing in a new system. If you notice that your home just isn't cooling like it used to don't wait and risk a breakdown in the summer. Call a Direct Air professional for air conditioning service Tulsa residents trust.
Some common signs it's time for a new AC include:
The unit is more than 10-15 years old and reaching the end of its lifespan.
You deal with frequent breakdowns and refrigerant leaks that repairs don't seem to fix.
Energy bills have skyrocketed but you aren't running the AC more than usual.
You hear strange noises from the AC like rattling and banging or odd smells like burning.
There is limited airflow through the vents or no cool air at all.
If you've run into an issue with your AC for the first time, a repair might do the trick! Our professional technicians will inspect the unit and offer our expert opinion on whether it's time for a new unit. If the issue is beyond repair or likely to return, we'll help you find the right cooling system for your home's needs and get it installed in no time.
DIY AC Replacement vs. Professional Installation
When your air conditioner breaks down in the middle of summer, you may be tempted to put in a new unit yourself. It's important to do research and understand the pros and cons of self-installation and professional installation to make the best decision for your home.
DIY AC Replacement
Pros: Cost savings, personal satisfaction and flexibility.
Cons: Lack of expertise, potential mistakes, safety risks and performance issues.
Professional AC Installation
Pros: Expertise, safety and compliance, warranty protection and long-term savings.
Cons: Initial cost may be higher.
Residential and commercial HVAC installation needs to be handled safely and responsibly to extend the unit's lifespan and prevent injury. With electrical and chemical components, it's crucial to ensure that connections are made correctly and up to code.
Our AC Replacement and Installation Process
When you choose Direct Air for your air conditioning replacement or installation, you can expect professional and friendly service from start to finish. We make sure you're informed through the process and have confidence in your new system.
Our process includes:
Walking you through different AC choices to find the right make and model.
Considering your business or home's needs to determine the appropriate size of AC for optimal cooling.
Thorough inspection and testing of the new equipment to ensure proper function.
Communication from the time we arrive until your new AC is installed and ready to go.
When you choose Direct Air for your AC replacement or installation, we take the time to understand your cooling needs and budget to help you make the right decision for your space. We put your comfort and safety first so you can have the peace of mind you deserve.
AC Replacement You Can Count On
Any good technician will tell you that installation day is the most important day in the life of a central air conditioning system. We're proud to be the go-to name for heat and air OKC has come to rely on! Our AC installation and replacement give you the confidence and peace of mind you deserve. 
We value our reputation and we value your opinion of our service in Moore, Oklahoma City, Norman and beyond. For those reasons and dozens more, installing an AC properly and efficiently is something we take great pride in. Your Direct Air-installed AC will bring you even temperatures, cooler, cleaner air and a high rate of efficiency so you aren't paying an arm and a leg to keep the family healthy and comfortable.
If your system is on its last leg, give Direct Air a call today at 405-778-2896 or request an appointment. We'd love to upgrade your comfort with the AC service OKC area residents count on!
What is the best time of year to replace an AC near Norman, OK?
The best time to replace an AC unit is during the spring or fall. These seasons are characterized by milder temperatures, making it more comfortable for technicians to work on the installation without putting undue strain on your home's cooling needs. Additionally, HVAC companies might offer off-season discounts or promotions during these times. Planning ahead and scheduling the replacement during these transitional periods can ensure your home is prepared for the upcoming heating or cooling season.
What is the average lifespan of a home AC unit near Norman, OK?
The average lifespan of a home AC unit is typically around 15 to 20 years. However, factors such as maintenance, usage, climate, and quality of the unit can influence its longevity. Regular maintenance, such as cleaning or replacing filters, and addressing issues promptly can extend its lifespan. As the unit ages, efficiency might decrease, leading to higher energy bills. Evaluating the unit's performance and consulting HVAC professionals can help determine whether repair or replacement is the best option.