Plumbing Camera Inspections near Moore OK
Do you need a camera inspection of your sewer or drain lines? 
Ask yourself: Do I experience frequent clogged drain or sewer lines? Have I received a dramatically higher water bill than normal? Sewer and drain camera inspections can get to the source of problems.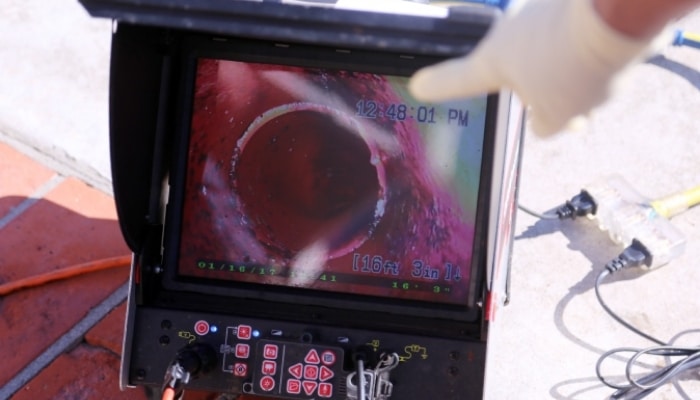 If you're experiencing something more along the lines of a plumbing emergency, it's often the case that the cause is not close to the surface but rather deep down in the sewer and drain lines, hiding from human detection.  
In the past, these emergencies would lead to giant holes being dug in the yard or property as workers look for the blockage in the lines. Today's sewer camera inspection technology makes it so you can save thousands of dollars (and your lawn!) by pinpointing the root problem without exploratory digging.
Won't A Camera Inspection Cost A Lot?
No! Actually, camera inspections are used by plumbing companies like ours to both save time and money when attempting to get to the source of a plumbing emergency.
Camera inspections can also be used to determine who is responsible for a certain repair, you or the city or county government. Perhaps roots have grown into your plumbing lines but the roots are from a tree not located on your property — only a camera inspection can suss out those details so that you can begin to resolve the problem as soon as possible. 
At Direct Air, we're experienced in using camera inspections to determine leaks, environmental disruptions or problematic sewer line connections — all to save our clients the money of having to investigate these problems by tearing apart their homes or businesses. 
Call Direct Air at 405-778-2896 or contact us to learn more. You can also request service right now!