Top-Rated AC Maintenance Services Near Norman, OK
What one phone call can lengthen the life expectancy of your AC and also improve its efficiency? A call to Direct Air for air conditioner maintenance. 
With as hot and humid as Norman, OK, gets in the summer, having reliable air conditioning is a must. Taking care of your AC with preventative maintenance and seasonal tune-ups is key to avoiding breakdowns and costly repairs so you can stay cool. Direct Air is committed to keeping your home comfortable with AC maintenance that ensures your system is running properly and ready for any weather!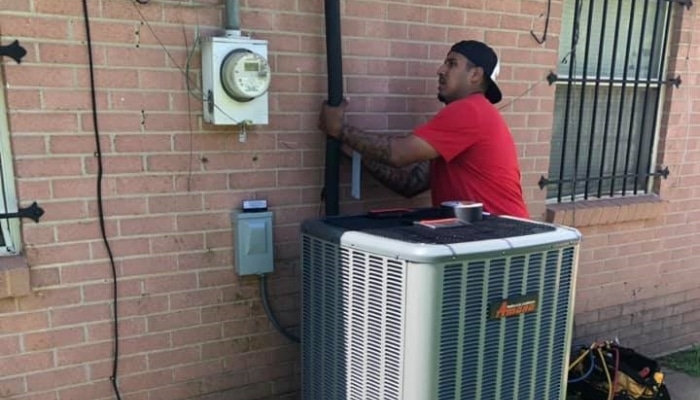 Is It Necessary to Service AC Every Year?
Just like taking your car in to be serviced or going for an annual physical, your air conditioner needs consistent care and attention. There are several things you can do throughout the year to keep your AC in good condition: clean and clear any debris, change the filters every 90 days and make sure your thermostat isn't set too low.
Once a year, though, your AC needs a thorough inspection to check internal components, refrigerant levels and more. We recommend scheduling your AC maintenance in the early spring to make sure your system is ready to run all summer long.
You may think that the cooler months are a nice break for your AC and it will be ready at a moment's notice for hotter weather. Your AC might actually have sustained wear, tear, and damage through the winter that need to be fixed before it can run safely. The last thing you want is a broken air conditioner in the middle of summer. Yearly maintenance helps you avoid that.
Signs That Your AC Needs Maintenance
Keeping an eye out for AC concerns and scheduling maintenance is the easiest way to treat minor issues before they snowball.
You should schedule maintenance if you notice: 
Weak Airflow or Uneven Cooling: If there are hot and cold spots in your home or not enough cool air in every room, there may be clogged air filters or issues with the motor blower.
Strange Noises or Smells: Your AC should operate quietly and odor free. If you notice grinding, squealing, rattling, or smell burning or mildew, there may be worn out components or issues with the ductwork.
Higher Energy Bills: If your energy bills skyrocket without an increase in usage, your AC is likely running harder than it should have to.
Frequent Cycling On and Off: If your AC turns on and off frequently, it may be struggling to maintain the right temperature and wasting energy.
Excessive Humidity: If the air in your home feels too humid even when the AC is running, there might be issues with the cooling or dehumidification process.
Benefits of Regular AC Maintenance
Treating your AC to annual service comes with many benefits, including the peace of mind that your family will be safe and cool through the Norman heat. Scheduling yearly maintenance is a long-term investment with immediate improvements to your home's comfort.
With routine maintenance you can enjoy: 
Improved energy efficiency for lower monthly costs.
Enhanced cooling performance for optimal comfort in every room.
Extended system lifespan so you can save and avoid premature AC replacements.
Better indoor air quality to reduce allergy and asthma irritants in your home.
Fewer repairs and breakdowns for reliable cooling when you need it most.
Why Choose Direct Air for AC Maintenance
As a locally-owned business, we are passionate about taking care of our local communities. In the dog days of summer, that means ensuring you and your family have a reliable air conditioning system. When you choose Direct Air, you can be sure you have a team of experts with your satisfaction at the forefront.
Why choose us? 
Skilled technicians who know the ins and outs of cooling systems.
Comprehensive inspections that check every component for potential problems.
Tailored maintenance plans that meet your unique needs for personalized service.
Our AC Maintenance Process
When we come to do maintenance in your OKC, Tulsa or Norman area home, we are both looking to clean and tune-up your unit while also looking for signs of possible damage and needed repairs. Additionally, we'll improve the performance of your machine by cleaning drains, replacing filters and inspecting for any visible damage that might indicate your system needs repair or replacement. 
Our AC maintenance process includes: 
Checking refrigerant levels.

Lubricating bearings.

Checking the drainage line.

Calibrating the thermostat to ensure the temperature coming from the AC is correct.

Checking the blower motor.

Checking operating pressure.

Ensuring secure connections.
You will be kept informed from start to finish and by the time our tech is done, we'll be able to issue your AC unit an excellent bill of health.
Cool Club Maintenance Plan
Ready for a hassle-free way to stay cool and save money? Joining Direct Air's Cool Club helps you mark AC maintenance off your list and enjoy exclusive perks like discounts and priority scheduling!
Why become a Cool Club member? 
Convenient, regularly scheduled maintenance for your plumbing and HVAC systems.
Thorough inspections and tune-ups to keep things running smoothly.
Three convenient plans tailored to your home's needs for customized coverage.
Members only discounts, same-day service, no diagnostic charges and more!
Join The Cool Club today to save more and stress less about your home's comfort!
Choose Comfort, Choose Direct Air
Proper AC maintenance is the key to a better, more efficiently working AC unit, far less likely to need serious repairs. Direct Air is here to help you make the most of your AC, lower energy costs and enjoy consistent comfort all year long. 
We are proud to be the trusted name for AC services in the Norman area! When you need fast, reliable service from a team that puts you first, you need Direct Air. Call us today at  405-778-2896  or request service now online.