Check Out the Benefits of a Water Heater Without A Tank
Tankless water heaters provide hot water only when needed, unlike a traditional water heater that keeps a tank full of hot water available. In some homes they can increase energy efficiency by 25% to 30%. This is because they don't have the "standby energy losses" associated with regular water heaters that use energy as they wait for you to use hot water.
You turn on the tap for hot water.

Cold water zooms from the pipes into the tankless unit.

A heating element heats the water.

You get hot water, without having to wait for the tank of a regular water heater to fill up.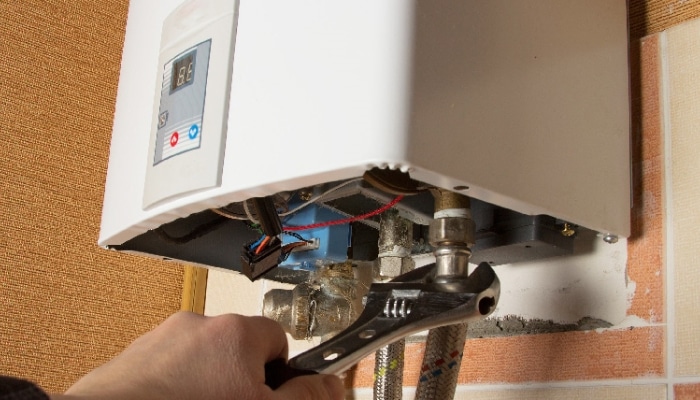 Do Tankless Water Heaters Work For All Homes?
Tankless water heaters can work in any home. There are many options available to help you enjoy instant hot water, no matter how many people are using water at one time.
If you have a smaller home or only one or two people living in your home, a single tankless water heater unit will meet your needs effectively. For larger homes, you may want to consider installing one tankless unit per floor, or even small point-of-use units in each bathroom and the kitchen. We will evaluate your needs and recommend the best tankless water heater solution for your home and family.
If you call Direct Air at 405-778-2896 today, we can guide you to the water heater that is right for you. We also offer 24/7 emergency plumbing services to ensure you have a helping hand if your tankless water heater breaks down and leaves you without hot water.
Give us a call today or contact us online to schedule a consultation or request service!